McCallum Accounting and Tax Services strives to provide professional, personalized services to all of our clients, large or small. Our high standards, excellent service, and specialized staff fuel the client word-of-mouth referrals that drive the growth of our business.
ACCOUNTING & BOOKKEEPING SERVICE TAX RETURN PREPARATIONS
On MBE Trade
Phone
(269)649-5631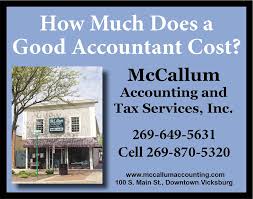 Fill out this form if you are Interested in this item.